1, Warranty period.
The warranty is valid for 2 years from the date of your product purchase.
2, Warranty details
If the product fails within the warranty period despite having been used in accordance with the conditions described in the operating instructions and specifications, a replacement product will be supplied free of charge.
3, Cases not covered by warranty (paid services)
Even during the warranty period, the warranty will not applicable in the following cases, and a replacement will be provided for a fee.
In the event of misuse, improper repair, or any modification.
When the location where the open frame (board type power supply) etc. is installed is relocated after purchase.
Defects or damage during transportation.
Damage due to a fall.
Defects or damage due to fire, earthquake, flood, lightning, other natural disaster, pollution, salt damage, gas damage (sulphide gas, etc.), abnormal voltage, use environment not in accordance with specifications, etc.
Defects and damage caused by installation on vehicles, ships, bullet trains, etc.
Malfunctions and damage caused by inadequate installation.
Defects or damage caused by equipment or parts other than the purchased product.
Failure or damage due to component fatigue or wear
When our company is not responsible for the fault.
4. Precautions
We make no representation or warranty, express or implied, as to fitness for a particular use or purpose, including fitness for the purchaser's use or equipment.
We accept no liability whatsoever arising from the use of our products for unauthorised applications. It shall be the responsibility and obligation of the purchaser to determine whether our products are fit for a particular use or purpose and whether they are compatible with the purchaser's application or equipment.
The purchaser is obliged, when using our products, to consider whether they can be used without problems in relation to the equipment in which they are to be used in combination and to ensure that he also has the expertise to do so. If there is a risk that a defect or other problem may occur due to the mounting of our products in the equipment, etc., the purchaser shall be responsible and obliged to take measures such as creating a safety protection mechanism to prevent the defect or other problem from occurring.
The purchaser shall compensate a third party for any damage caused to the life, body or property of a third party as a result of the use of our products. If a third party makes any claim against us, our affiliated companies and representatives (hereinafter referred to as "we"), the purchaser shall compensate us for all damage caused to us.
5, Disclaimer
The following damages shall be excluded from the scope of monetary compensation by us for any reason
Damages arising from matters not attributable to our company.
Loss of opportunity and lost profits of purchasers.
Secondary damages
Damages caused as a result of accidents
Damages caused to objects other than our products
Damages resulting from recalls, customer service and other operations
Any damages caused to the purchaser
You can get the product catalog in PDF.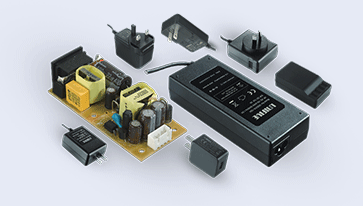 Product initiatives
Since 1989, UNIFIVE has maintained the quality of their AC power adapters and switching power supplies through rigorous quality controls.
See more