TYPE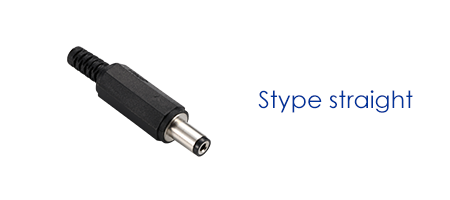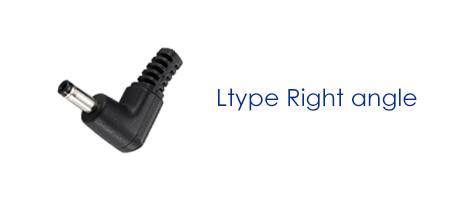 Type list
PLUG NO.
PLUG NAME
A
B
C
D
PLUG OUTLINE
PL01A
TS (Mono)
2.5
10-12
PL01B
TS (Mono)
3.5
10-12
PL02A
TRS (Stereo)
2.5
10-15
PL02B
TRS (Stereo)
3.5
10-15
PL03A
Barrel type
5.5
2.5
9.5
PL03B
Barrel type
5.5
2.1
9.5
PL03C
Barrel type
5.0
2.5
9.5
PL03D
Barrel type
5.0
21
9.5
PL03E
Barrel type
3.8
1.35
9.5
PL03F
Barrel type
3.8
1.05
8.0
PL03G
Barrel type
3.5
1.35
9.5
PL04A
EIAJ-1
2.35
0.7
9.5
PL04B
EIAJ-2
4.0
1.7
9.5
PLO4C
EIAJ-3
4.75
1.7
9.5
PL05A
EIAJ-4
5.5
3.3
9.5
1.0
PL05B
EIAJ-5
6.5
4.3
9.5
1.4
PL06A
MICRO USB
6.8
-
6.0
PL06B
MINI USB
6.8
-
7.2
PL06C
Type-C
8.25
-
6.5
PL07A
3PIN Din Plug
10.0
-
6.2
PL07B
4PIN Din plug
10.0
-
6.0
We have a wide selection of DC plugs.
We can serve items and detailed modifications that are not included in the above table.
Below is an example case.
We provided a S1017 plug (Switchcraft) with an UL 1185 #16 cable for large current (10 A) to meet a client's request
We provided a solution to prevent the plug disconnecting from the device, i.e., a screw-type DC plug.

A customer requested a plug that could connect more firmly with their devices. We provided a plug that snaps using turning forks to meet their request.

A customer provided us with the plug no. (such as Molex Electronics or Phoenix Contact part no.) for our factory as a reference to search for suitable plugs. We then found a suitable cable to match that plug.

A customer required a connector for an open-frame model similar to that shown below. We produced the connector.

.

OA customer required a complex connector where two DC plugs were split from one cable.
You can get the product catalog in PDF.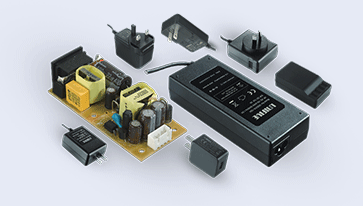 Product initiatives
Since 1989, UNIFIVE has maintained the quality of their AC power adapters and switching power supplies through rigorous quality controls.
See more